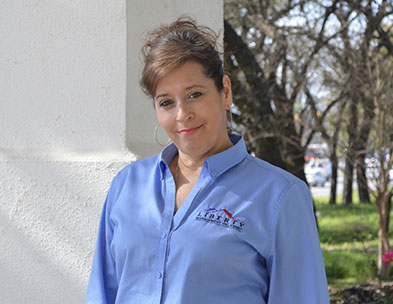 Patty Gonzalez is the Owner/Tenant Coordinator here at Liberty Management, Inc. and has been working in the Property Management industry since early 2007. She has been with Liberty Management since December 2016.
With over ten years experience in this field of work, Patty has been able to gain a vast amount of knowledge and hold down multiple roles as a Property Management Professional. From starting off as a receptionist, to mastering owner/tenant/maintenance/makeready coordinating and even achieving Directorial roles, Patty has done it all! In her current position as Owner/Tenant Coordinator Patty continues to do what she loves most, help people. Creating/following up work-orders, coordinating with vendors, and processing tenant move ins and move outs all while providing unbeatable customer service.
With an infectious smile, Patty takes pride in being a source of resolution, being able to solve the issues tenants and owners might be facing. The positive feedback she gets from people are one of the things that keep her going and smiling! Having been mentioned in a number of positive online reviews from both owners and tenants, Patty's work ethic speaks for itself.
Right now, Patty is currently working on achieving her goal of obtaining a Real Estate License and hopes to further her abilities in this industry when she does. Having previously been an avid runner, Patty's other future goals include trying to get back to fitness to overcome a previous knee injury.
Patty's been a stay-home mom for 17 years, so she really gives great importance to family time. She is a wife, a mother of three, and has 2 grandchildren who are all the light of her life.