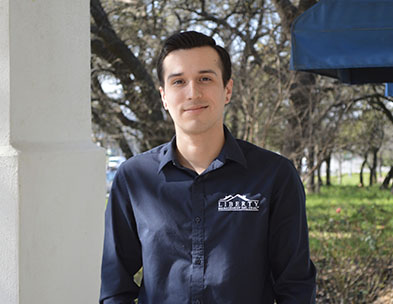 Vincent Moreno is the Assistant Property Manager/Marketing Specialist here at Liberty Management, Inc. and has been working in the Property Management industry since 2013.
Vincent has become highly trained in a number of roles throughout his years as a Property Management Professional. From starting off as a Coordination Assistant dealing with violations, utilities, and maintenance request to becoming the go-to listing agent, Vincent's love of the real estate only continues to grow. In his current role as Assistant Property Manager/Marketing Specialist, he is responsible for creating and following up work orders, processing move ins and move outs, coordinating with vendors and preparing the rental listings for when it comes time to market the properties for rent. He has been able to juggle a number of task/responsibilities and still maintain an excellent work ethic.
Vincent holds a Texas Real Estate License and is an active REALTOR® and member of the San Antonio Board Of Realtors (SABOR). As a member of the National Association of Residential Property Managers San Antonio Chapter (NARPM), Vincent is held to a higher standard of ethics than the average Real Estate Professional.
During his free time Vincent enjoys spending time with his partner Jonathan and their Goldendoodle, Cross. He has a passion for painting that continues to grow and act as an outlet for him. Inspired by Joan Mitchell and Willem de Kooning, Vincent has even been asked to showcase his work at local art events.
Some of his future goals include getting married, owning his first home, purchasing an investment property, and launching his online portfolio to allow his artwork to reach a larger audience.